What an ordinary person can do when we live in a world where the greed of the human race is eating up every inch of forest, several plants and animal species go extinct every day. We have traditional knowledge of so many plants, their miracle uses, and medicinal preparations. What if those plants go extinct? That knowledge which got passed on from generation to generation becomes useless…
Let's Meet Mr. K G Ramesh, sitting in the tree shades at 'Lakshmi's Atoll', a forest that hosts more than 1500 species of medicinal plants that he and his family raised in the land adjoining their home. 
Q – How did you get introduced to Ayurveda?
A – When I was 33 years old, I got arthritis. It was severe, and in the first two years, I followed allopathic medication, took steroids. All those gave me only temporary relief. After a while, the disease will come back more severely. I eventually started looking for other alternatives. Later I started getting treated under a traditional Ayurvedic doctor from Kayamkulam (A town in Kerala) for 3-4 months; there was no change in the severity of the disease. I was almost bedridden. Because of joint swelling and stiffness, I can't even move. Then eventually, it started to get easier. With punctuality in taking medication and strictly following diet restrictions and other recommendations, I was completely free from disease in a year. Not just that till now, I never had any traces of arthritis, and I can do everything more joyfully than ever. Along with this, I should emphasize the support of my family. Even when my condition was worse, they trusted the Vaidya and the medication, and they are aware that it will take a while to get a complete cure.
Q – What made you collect and grow ayurvedic plants
A – During My treatment days, all the Ayurvedic decoctions have to be made at my home only. We have to buy plants or medicines and then confirm with the doctor that it is a good and right one. Then we realized it is hard to get these medicinal plants. Hence we started planting from those we bought for making medicine in the house compound.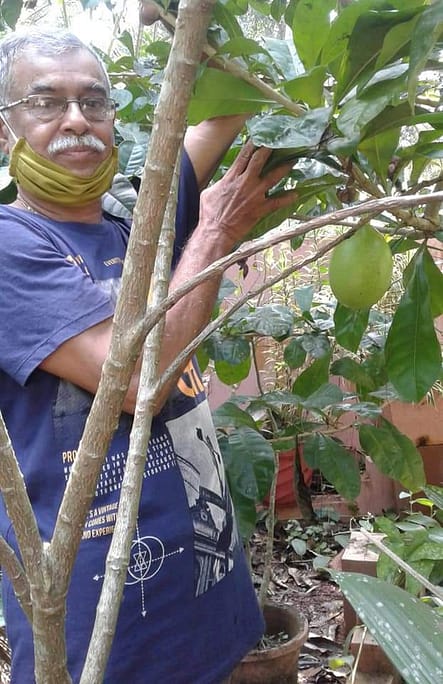 Q – Today, you have more than 1500 species in your garden. What were the challenges you faced?
A – It was years of hard work that I collected these many plants and trees. I traveled to every corner of Kerala, looking for plants, and interacted with so many botanists and professors to figure out the right plants. Also, I got so many plants through friends who are in India and abroad. It is a challenge to confirm the plant is a suitable variety. I plant these sapling/seeds first and take care. Once they grow, I try to identify the plant with the help of people who have the proper knowledge.
Q – Have you used to sell saplings?
A – I am not doing this with a commercial motive. And My experience is different. I love doing this. So many Ayurvedic doctors and children used to visit this place. In the initial days, I gave saplings for free to friends and visitors when they asked. I learned through experience that when people get something for free, they don't value it much. After lots of travel and struggle, I collect seeds, and it's hard to make them sprout. Lucky if we get one or two saplings from it. Once I gave such a rare plant to one of my friends at his request. After a few weeks, I visited his place and found that the sapling was kept as it is, in the same packet and was carelessly kept on the corner without any care, and the scene broke my heart. After this incident, I decided I won't give plants to anyone for free. To those who genuinely need it, I collect a nominal fee.
Q- Today, people seldom know about medicinal plants. In this circumstance, what plants should one try to grow in a home?
A – Here are a few you could quickly grow without any or little effort. Water plants properly and, like in vegetable cultivation, use organic manure as fertilizers.
| | |
| --- | --- |
| Wild Basil | Kattu Thulasi/Naai Thulasi |
| Holy Basil | Krishna Thulasi |
| Coleus aromaticus | Pani koorka / Karpoora Valli |
| Ayapana Triplinervis | Ayappana / Ayappani |
| Aloe Vera | Kattarvazha / Sothu kathazhai |
| Fragrant Pavonia | Iruveli / Peramutti |
| Gin berry | Pannal / Amutam |
| Castor | Avanakku / Amanakku |
| Chinese chaste tree | Karinochi / Indrani |
| Guava | Perakka / Koyyapazham |
| Mistletoe | Yeshenku / Sankukuppi / Essanku |
| Appa grass, Goat weed | Appa / Kumminnipacha |
| Stone breaker / Niruri | Keezhanelli / Nela Nelli |
| Green Pennywort | Muthil / Kudavan / Vallarai |
Q – What is the plan for this space?
A – Have to collect more and more medicinal plants. For school children and ordinary people, I used to take introductory sessions about medicinal plants. Here we have more than 750 Medicinal plants, and right now, we are on a mission to label all these so that visitors could know. My daughter Lakshmi is a mentally disabled child. It is in her name that this garden is known. "Lakshmis Atall" , As long as this garden, plants, and trees here exist, She and Her memories will be live. 
Lakshmi's Atoll is in Alleppey District in Kerala. You could reach Mr. Ramesh on 8304994712
Great article Informative Insights into the root cause and remedy

Very much informative. Thank You

Great…Thank You for Sharing

Thank you for such a valuable information mam…it is very helpful for us …
https://mldqwhsjwyte.i.optimole.com/Ush7KvM-qIg0Hc1z/w:auto/h:auto/q:mauto/f:avif/https://www.arogyaniketan.in/wp-content/uploads/2018/11/logo_1.png
0
0
arogyaniketan_in
https://mldqwhsjwyte.i.optimole.com/Ush7KvM-qIg0Hc1z/w:auto/h:auto/q:mauto/f:avif/https://www.arogyaniketan.in/wp-content/uploads/2018/11/logo_1.png
arogyaniketan_in
2021-08-08 11:24:00
2021-08-09 06:06:12
An Ordinary Man with an Extraordinary Effort!