Namasthe, Here we are back with another informative series on Food and Ayurveda. Ayurveda takes a preventive approach to health, good lifestyle and proper food habits are the primary aspects. This will be a series of articles to give you insight into food and how it affects our health from an Ayurvedic perspective. Food plays a vital role in our physical and mental wellness. Knowing what you are eating, what to eat and not to eat can help you take care of your health.
In Ayurveda, food has classification based on its quality to affect Tridoshas (Kapha, Vata, and Pita) and other vital body functions. Most of the time, properly evaluating your health condition as per Ayurveda and adjusting your food based on that can bring the cure.
Todays article is about taste and how you could decide what to eat and what not to eat based on your health condition and taste.
What not to eat – Taste and Tridoshas
In our daily life, we go through several discomforts. The food we take plays a vital role in managing these discomforts. There are fundamentally six different tastes. Ayurveda classifies these six different tastes based on their effects on Tridosha. If you know which Doshas are contributing to your discomfort, you could easily decide which food you can have and what to avoid with this simple idea of taste. ( Though this information will help you in general, in certain cases there are exceptions, consult a physician for specific details)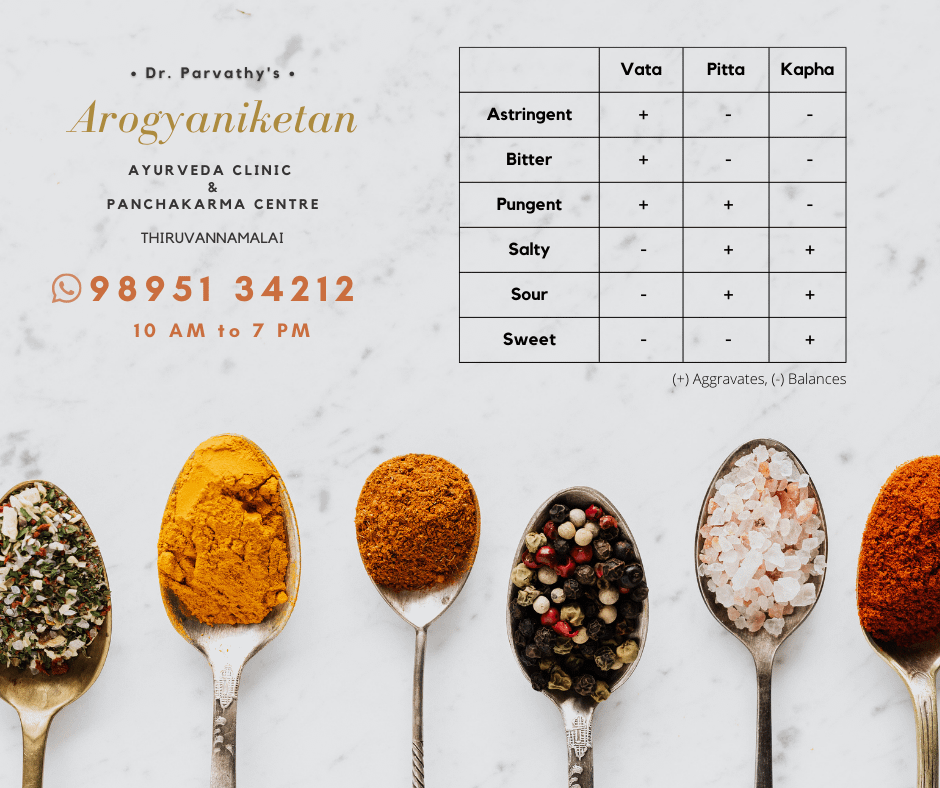 Arogyaniketan Ayurveda Clinic & Panchakarma Centre
Dr. Parvathy Chandran BAMS
We provide classical Ayurvedic Treatments, Massage, Shirodhara, Panchakarma, etc. Please visit https://arogyaniketan.in for more information and details about our facilities.
---
https://www.arogyaniketan.in/wp-content/uploads/2022/08/7.png
788
940
arogyaniketan_in
https://mldqwhsjwyte.i.optimole.com/Ush7KvM-qIg0Hc1z/w:auto/h:auto/q:mauto/f:avif/https://www.arogyaniketan.in/wp-content/uploads/2018/11/logo_1.png
arogyaniketan_in
2022-08-28 13:33:53
2022-08-28 17:09:46
AHARA, The Dietary Regimens of Ayurveda